Welcome to The Lucy Wikia!
Currently working on 142 articles.
Welcome to The Lucy Wikia, the first collaborative project designed to document anything and everything related to Lucille Ball. The wiki format of the project allows anyone to join, create, and edit content on the site, helping to create the most comprehensive and completely database possible. Because the site has just begun, we need a lot of help -- so please, feel free to jump right in and add your knowledge of Lucille Ball to our project Not sure where to begin? You might consider checking out the Community Portal and help pages!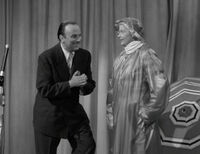 The Quiz Show is the fifth episode of I Love Lucy. The episode starts with Lucy sitting at the desk with a bunch of papers around her. Ethel walks in, and Lucy tells her that today is the day Ricky goes over her household accounts, which are a mess. Ricky walks in and checks the books, and is surprised by the $245 in miscellaneous, and Ricky also finds out that she just paid last December's bills. Ricky tells Lucy that she's used up her allowance until next February, and she won't get any more money until then, although he says if she can pay the bills, she can have her allowance back. read more...
The Lucy Wikia Content
Quote of the Day
"You can't tell people the truth, they think you're lying. You have to lie to make them think you're telling the truth."
- Lucy in Lucy Tells The Truth
Community content is available under
CC-BY-SA
unless otherwise noted.